Anonymous
Into The Garden Talkback (Day 2 Encore)
01/04/15(Sun)18:30:06
68470967
CN.jpg
(41.86 KB, 670x377)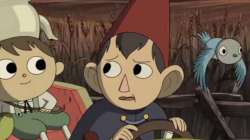 You guys... Into the Garden is about to air right now... 3:30PM/15:30 on the west coast and if you have a cable subscription with a stream, you can watch the west coast feed.

Could we discuss this? I've never seen it ever but I know /co/ seems to really love it so why not check it out. I want to watch it now since its airing and I can catch it.

Ready? Lets watch. The Old Grist Mill is airing right now!